Flower & White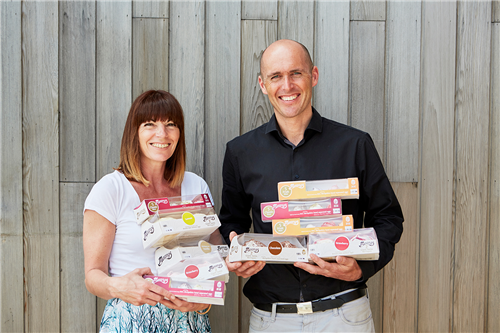 Flower & White are the award winning innovators of inspiring desserts - the ultimate in quality, taste & innovation founded by food lovers Brian & Leanne Crowther.
"You may know us as The Little Round Cake Company or Merangz but did you know that we have rebranded to Flower & White? All the same delicious products, just a new name housing all of our amazing brands.
We believe that no-one should settle for just 'good' food. With a passion for innovation and quality, we strive to deliver a variety of exceptional choices for our consumers. We are committed to producing great quality food using quality ingredients, British free range eggs and where possible, natural flavours. All of our products are hand crafted in Shropshire by our creative and talented team."
So where did it all start?
"On a stand at our local Shropshire market in 2009 selling our Tweeners – the perfectly in-between sharing cakes. They sold out within a few hours so we knew we were onto something and most importantly our customers wanted more….."
What came next?
"Inspired by the beauty of meringues on trip to France, we then went on to create Merangz - the ultimate in flavour, taste & quality. We pride ourselves on giving consumers a choice and Merangz definitely did that – how could anyone resist the showstopping displays and mouth watering flavours?"
"With a passion for delighting our customers, we have since developed Custardz – gourmet creamy custard, Muffinz – deliciously filled gluten free muffins & Merangz Pavs. The innovation doesn't stop there – we are always working on the next big thing!"
Brian & Leanne Crowther
Shropshire Food Centre
Shrewsbury
Shropshire
SY1 1RD
United Kingdom