Great Berwick Organics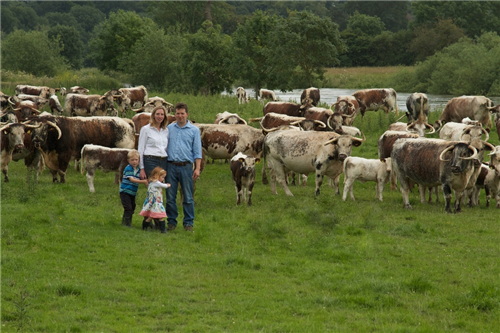 At Great Berwick we specialise in rearing English Longhorn cattle and producing the finest, most flavoursome and tender organic, 5 week dry aged Longhorn beef possible.
Reared on the meadows next to the River Severn, just upstream from the market town of Shrewsbury, Shropshire, the herd has a purely organic grass fed diet. They enjoy a relaxed, stress free environment and they are allowed to mature slowly under our care.
Using our own cold room facilities the whole carcass is hung on the bone, to dry age, for 35 days to allow the meat to develop a rich dark flavour. The wonderful marbling through the meat occurs through slow growth and is a reliable indicator of quality. These simple, but essential factors ensure great taste and tenderness.
We strive to produce the very best Beef and we want to share it with you.
We look forward to hearing from you
Sam and Claire
Sam & Claire Barker
Great Berwick Farm
Shrewsbury
Shropshire
SY4 3HS
United Kingdom
More from Great Berwick Organics
---