Salop Pickle Works
Teresa & Ian Lewis
Bayston Hill
Shrewsbury
Shropshire
SY3 0PT
United Kingdom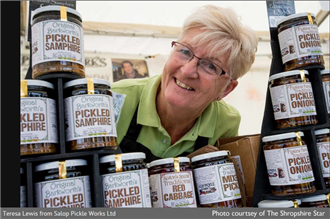 Teresa and Ian Lewis produce a delicous range of pickles, all made by hand using recipes handed down for generations, Salop Pickle Works was formed in 2009.
Teresa is a retired secondary school special needs teacher, now hand making with husband Ian, great Pickles, traditional or chillied for modern day tastes.
"I enjoy the atmosphere of Markets and Fairs, meeting our friends and regular customers, and talking with a passion about the products which we make with love.
I have always helped my family make pickles since I was a child. Now pickles are my life!
I am the ideas person in this company. I look after the books, the website and all our packaging. I am particularly proud of our company image and the style we have created on our jar labels. I love to hear positive feedback on this from our customers.
Together we are surprised and delighted at how our customer base has grown and how successful it has become, more than we ever dreamed it would be. Now we continue to work hard to grow and expand the business into new and exciting areas. To do this we know we will need help and ideas from you our lovely customers."