Ludlow Brewing Co.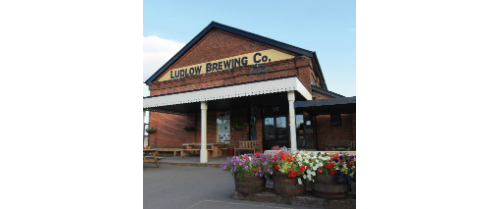 Discover the brewing magic of the award-winning Ludlow Brewery, here in Shropshire and the Marches - an area fast becoming one of the leading brewing regions in the UK.
Located in a specially converted railway shed, just over 50 metres north of Ludlow railway station. The building has been fully refurbished to latest building standards and houses a 20 barrel brewing system. Ludlow Brewery produces award winning high quality ales right in the heart of the beautiful town of Ludlow.
Joining Ludlow's tradition of fine food and drink, Ludlow Brewing Company is a small brewery which aims to produce high quality real ale for the discerning drinker. We are capable of producing roughly one million pints annually. Why not pop in and try our delicious ales for yourself?
Our Ethos
During the design of the brewery every opportunity was taken to ensure that an environmentally friendly and low carbon facility was established. We reclaim heat during the brewing process which is used to heat our underfloor heating, recycle rainwater, have low carbon insulation, use low energy lighting and have installed solar panels. So when you drink our beer, say 'cheers' to real ale with a clean conscience!
For the recognition of our participation in the innotative and high-quality project, we were awarded the Ludlow Heritage Award 2011. The rennovation of Ludlow Brewery was judged to be exemplary in terms of preserving and enhancing the character, through the use of both modern and ancient building materials. While the high quality craftsmanship upholds the best traditions of construction in the town.
We're proud to be a friendly local brewery that makes good, honest beer for all those who enjoy a real pint.
The Railway Shed
Station Drive
Ludlow
SY8 2PQ
United Kingdom
More from Ludlow Brewing Co.
---