Mawley Milk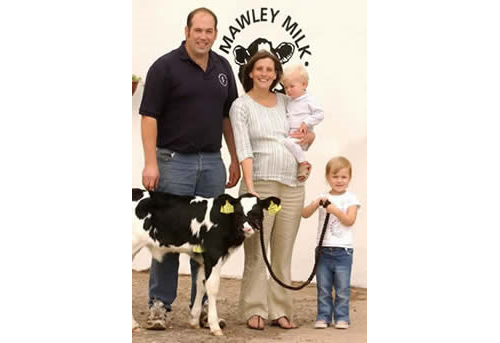 Set in the beautiful South Shropshire countryside, Mawley Town Farm is a diverse family-run business that relies on the support of a dedicated team of local staff. Our aim is to produce high quality milk and cream for our local community. To achieve this, our animal welfare and farming practices are of the highest standard. We are passionate about sustainability, growing 95% of the cattle feed ourselves. We also produce most of our own electricity with our wind turbine and solar panels. We have been milk processing in our on-farm dairy for over 25 years and supply to a network of independent shops, restaurants, tea rooms and schools. Our 320 home bred pedigree cows have access 24 hours a day to 5 Fullwood Automatic Milking Systems so they chose when and how often they are milked.
Our heifers are reared on extensive grazing until they have their first calf and join the dairy herd. Every Holstein Freisian cow is registered to the UK Holstein Society.
Our cows have the freedom to graze on extensive pastures during mild weather and have the benefit of modern housing during the colder months.
A home-grown diet of carefully selected crops is fed to the cattle and is essential to maintain the optimum health of the working dairy herd.
To produce the next generation of top quality cows, we use some of the best genetics from the UK and around the world, and we have also used our own home-bred bulls to great sucess
All bulls, including the Holsteins, are raised on the farm for their beef.
Mawley Town Farm
Cleobury Mortimer
Cleobury Mortimer
Shropshire
DY14 8PJ
United Kingdom
More from Mawley Milk
---