Moyden's Handmade Cheese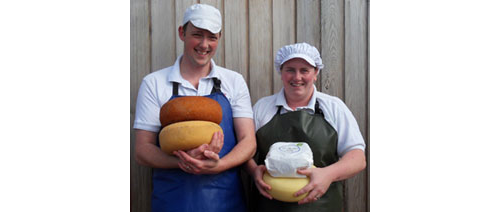 Established in 2005 by Martin Moyden, Mr Moydens Handmade Cheese has fast become a well respected artisan cheesemaking business. This stems from a passion for quality, attention to detail and a lust for perfection.
Martin was inspired by his grandmothers tales of farming and traditional ways of food production when cheesemaking really caught his imagination, how a simple way of preserving milk that can be traced back over 9000 years could still be used today and produce many varieties of cheese.
The difference between mass produced cheese and that produced on a small scale was evident so Martin went about developing traditional cheese recipes that would display the cheeses provenance. Using local Shropshire milk an ever increasing range of cheeses have been developed and named after well known Shropshire towns and landmarks, drawing from local history each cheese has a story to tell.
Now joined by his wife Beth, this hard working team has a mission to keep artisan cheesemaking going and create a range of cheeses that are the essense of Shropshire, provenance preserved.
Martin & Beth Moyden
Lockley Villa Farm
Wistanswick
Market Drayton
Shropshire
TF9 2AY
United Kingdom
Email: mrmoyden@live.co.uk
More from Moyden's Handmade Cheese
---