Petton Preserves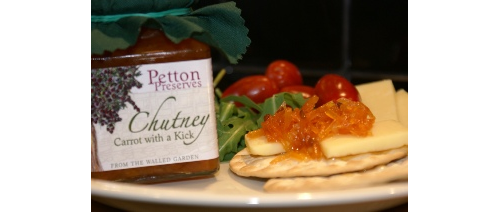 Lara produces a range of jams, chutney and honey - from the walled garden at Petton Hall, just north of Shrewbury
"I set up 'Petton Preserves' after a long career history in Design and Marketing – working for large Corporate Companies and never spending time at home. Deciding to finally leave the rat race behind, I wanted to use the skills I had learnt over the years, but also do something I valued, in an environment I loved…..Where else but home at Petton in a sleepy hamlet in North Shropshire.
Being lucky enough to have a Historic Victorian Walled Garden crammed full of fruit trees, and year after year losing so much fruit due to not having time to do anything with it…. this was the beginning of my dream. 'Petton Preserves'.
After many hours of market research, cooking trials, tasting sessions and based on advice from friends, family and market professionals, I was ready to at last start my journey.
I started trading in November 2012 at 'Heart of England Fine Foods' (HEFF), in Shrewsbury. My products were very well received and my first orders were taken. Later that month, I entered one of my products 'Carrot with a Kick' Chutney in to the prestigious Diamond Awards – to my utter delight, I was to find out in January 2013 that I had been selected as a finalist in my category."
Lara Gibson
Unit 12
Petton Hall
Shrewsbury
Shropshire
SY4 5TH
United Kingdom
More from Petton Preserves
---