Shropshire Cheese Co.
Rob, Rena & Family
Abertanat Farm
Llanyblodwel
Oswestry
Shropshire
SY10 8NA
United Kingdom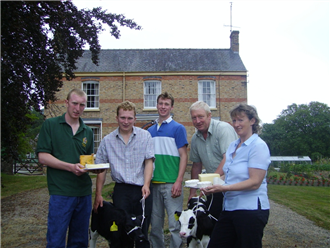 The Shropshire Cheese Company is run alongside Abertanat Farm by the Eyres family. For every process from feeding the calves and cows, looking after the animals and the land, right through to making the cheese, a member of the family is there.
"This means we can make sure that the milk used in our cheese is from healthy cows that are fed a good diet, which is what makes the best milk for our cheese.
The cheese is made in our purpose-built dairy next to the farmyard, which means that the family members running the farm and those making the cheese can keep in close contact about milk quality, how good the cheeses are and it allows us to take real pride in what we do.
We work together as a close-knit team to create tasty products for our buyers, and to provide the very best standards for our herd;
Stuart and Ryan both studied agriculture and have many years' experience as well as studies to run a successful farm. Stuart, who is also a trained and skilful cheesemaker is in charge of the herd's diet – essential for milk quality – compensating for the season, the weather, the quality of silage and many other variables and he even uses our in-parlour feeders to feed the correct amount of supplements for each cow individually depending on its size, age, health and anything else relevant.
Ryan is in charge of breeding, selecting the bulls that best suit our current cows and our cheese. He breeds for healthy cows – not super-milkers – because we need healthy, nourished animals for good milk and fertility and so we have more healthy cows for the future . He is normally found on the farmyard, but is often found in a tractor in Spring!"
All of their cows were reared by the family on the farm with the exception of some French cows they bought a few years ago who still respond to people talking in French!