Three Tuns Brewery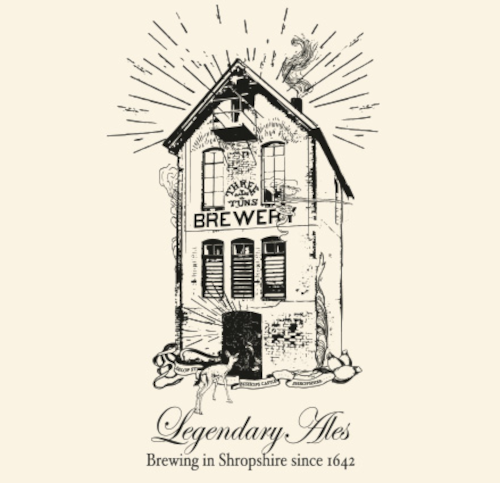 The UK's oldest brewery - established in 1642, and still based in Bishops Castle producing an ever popular range of beers - three of which are available in bottles.
A brewing licence at the site was first granted in 1642. Part of the existing brewery is of 17th Century origin and this would be consistent with it having been the original brewhouse, which would make it the oldest working brewery premises in Britain.
The remainder of the present brewery consists of a tower erected in about 1888. Tower breweries were a product of Victorian ingenuity; the movement of liquids through the brewing vessels could easily be achieved if the main ingredients, malt and water, were winched and pumped to the top of a tower so that gravity could achieve all the transfers needed during the brewing process.
Although some of the modern technology departs from the original gravity concept, the tower at the Three Tuns Brewery is a classic, miniature Victorian tower which, together with the older building, is described in its Grade Two listing as "a rare survival of a small, working rural brewery".
The Three Tuns is renowned to cask beer lovers world-wide; many confess to visiting the town purely to see the brewery and sample the beer.
At the advent of the 'Campaign for Real Ale' in the 1970s, the Three Tuns Brewery, with the adjacent Three Tuns Inn, was one of only four home-brew pubs operating in the whole of Britain. Its survival can be attributed to the custodianship of the John Roberts family, who bought the pub and brewery sometime in the 1880s, and who built the tower. His son, Erskine Roberts, and his grandson, John Roberts, continued brewing into the mid-1970s.
John Roberts Brewing Co ltd
Station Street
Bishop's Castle
Shropshire
SY9 5AQ
United Kingdom
More from Three Tuns Brewery
---