Wenlock Edge Farm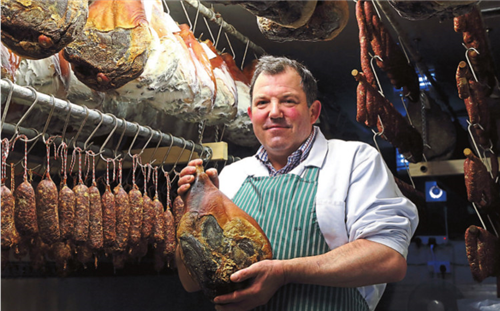 The Themans family have farmed at Edge Farm in the beautiful South Shropshire hills for over fifty years. Situated in Ape Dale (the valley of the bees) this is countryside typical of the Welsh Marches; family farms interspersed with woodland and defined by the evocative Blue Remembered Hills.
Historically, British Farmers always cured there own bacon and hams, this art has been continued and refined by Wenlock Edge Farm to offer the discerning food lover a range of the highest quality cured meats, sausages and charcuterie, from home reared stock.
"Our bacons and hams have won widespread recognition through winning the highest accolades in the country and numerous gold awards. Our award winning sausages are described time and again as Proper Sausages, a name that seems to have stuck.
We offer a range of delicatessen products; cooked hams for that special occasion, or just a simple, tasty salad, and now salami and other dry cured sausages, prosciutto and pancetta, made on the farm to our authentic Swiss family recipes.
Our aim is simple; to provide enjoyable food with real taste, through a total focus on product quality, innovation and customer satisfaction. We believe food from the farm to be the new way to reclaim traditional standards."
Peter & Alison Themans
Wenlock Edge Farm
East Wall
Much Wenlock
Shropshire
TF13 6DU
United Kingdom
Email: contactus@wenlockedgefarm.org
More from Wenlock Edge Farm
---